Villa Rosas Dagobert-Krikelin
"Krikelin"
​
​
Date of Birth: 2015-05-17
Colour & Markings: Wheaten
Height 48 weight 18
COI 0% in 5 generations
HD B
Show results
Excelent BOS Junior, BIM open with CK
Cert/CAC in Sweden
Cert/CAC in Denmark
Breeder/ Owner: Kickie Norrby
​
​
​

​

Krikelin

Är valpen vi behöll från D3 kullen. En pigg och glad valp med härligt temperament och en lovande pälskvalitet. Inte röd/sträv som vi brukar spara utan lite mjukare och inte lika röd.

Han är nu två år och har vuxit upp till en kraftfull och maskulin hane med härligt uttryck och utstrålning. Han har bland de bästa bett vi haft på en wheaten och en stor svart nos. Han är lagom vinklad runt om och har härliga rörelser. Blank silkig som växer in alltmer.

Krikelin

Is the pup we keprt from our D3 litter. A happy pup with lovely temperament and a promising coat quality. It is not the red/harch we use to keep but a softer and not so red one.

He is 2 years now and has grown into a strong and masculine male with a wonderful expression. He has a "mouth to die for" with big stong teeth in a perfect scissor bite. A big black nose. He also has moderate angulation all around and is a good moover. A shiny, silky coat is is now growing in.
​
| | |
| --- | --- |
| Krikelin 22 månader | Krikelin 22 months |
​
​
---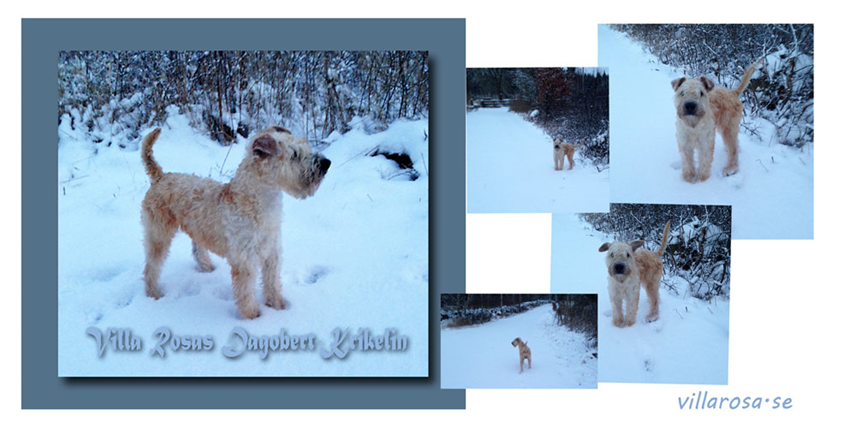 ​
​

​

Junior class: Excellent1 BOS junior

​

​

​

​

​